PHOTO
High-res Official Press Photo (300 DPI)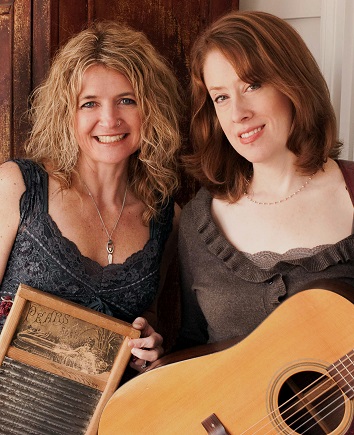 BIO
Combining spine-tingling harmony and exceptional songwriting, The Boxcar Lilies have made a name for themselves with their signature mix of folk, country, blues, and bluegrass-tinged Americana music.
Though each member of the Massachusetts-based duo has a distinct singing talent, Jenny Goodspeed (electric bass, guitar) and Stephanie Marshall (washboard, guitar) deftly weave their voices into a delicious whole – a sound that is sometimes delicate, sometimes gritty, but always innovative and soul-stirring.
Their trademark harmonies may have put the band on the Americana music map, but their genuine and charming stage presence and off-the-cuff banter helped keep them there. They've brought their engaging live show to venues across the Northeast and beyond, including The Iron Horse Music Hall, Caffé Lena, Club Passim, and Philadelphia's Tin Angel.
Their sparkling and lush brand of Americana has led to numerous opportunities including being selected for an official showcase at the International Folk Alliance Conference in Memphis and performing at the 2014 Falcon Ridge Folk Festival as the #1 Most Wanted Emerging Artist.
QUOTES
"They play an engaging mix of folky bluegrass and acoustic country with prominent, twining harmonies." --The Boston Globe, Highlights from the Green River Festival
"[The Boxcar Lilies] bring energy, improvisation and a charming presence to the stage each night. Anyone with an ear for folk or luscious harmonies will enjoy these women." --Cape Cod Times
Each is blessed with a rich and expressive voice. It's one of the secrets of The Boxcar Lilies' potent vocal blend. Their music is far too earthy to be described as pretty, call it unabashedly lovely instead. "Folk," of course, is an elastic term. With The Boxcar Lilies it frequently has a country feel, harkening back to pre-formula days when the narrative still seemed real and the emotions rang true. --The Watershed Post (NY)
"When we think of great harmonies in the contemporary roots music world, we think of bands like The Wailin' Jennys or Red Molly. We can now add The Boxcar Lilies to that list." --The Recorder (Greenfield, MA)
"Rooted in folk tradition, their sound is completely contemporary in the vein of Gillian Welch or Neil Young." --CMJ.com
"Fusing organic folk harmonies, dueling acoustic guitars, and keen lyricism, The Boxcar Lilies debut a sophomore album whose catchiness is matched only by its complexity. At 35 minutes long, the album achieves a refreshing purity grounded in its originality and balance." Valley Advocate (MA), CD Shorts
ARTICLES
The Boxcar Lilies Are on the Right Track --Concert Blogger Music Magazine
Lilies of the Valley --The Hampshire Gazette (MA)
Getting To Know The Boxcar Lilies --No Depression
The Boxcar Lilies' Latest: Knockout Rose --The Recorder (MA)